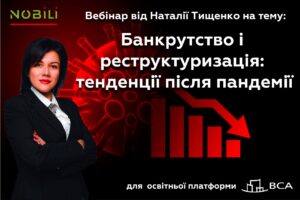 On October 12, a long-awaited seminar from Nataliya Tyshenko for the Academy of Consulting Business with an answer to the question that befell all entrepreneurs in 2020.
How to get out of the crisis correctly?
The world around us is not always full of good news, especially now that the whole world has begun an emergency evolution in market relations due to a pandemic. We need to change everything and no one will wait until everything falls into place. Many business leaders are looking for ways to preserve acquired assets and protect the business, but how to do it legally and correctly? Nataliya Tyshenko -Practice Arbitration Manager and Bankruptcy Instrument Populator, at her webinar Webinar "Bankruptcy and Restructuring: Trends after the Pandemic" for Academy of Consulting Business , will talk about all aspects of using bankruptcy to support and save businesses in a crisis.