Tishchenko Natalya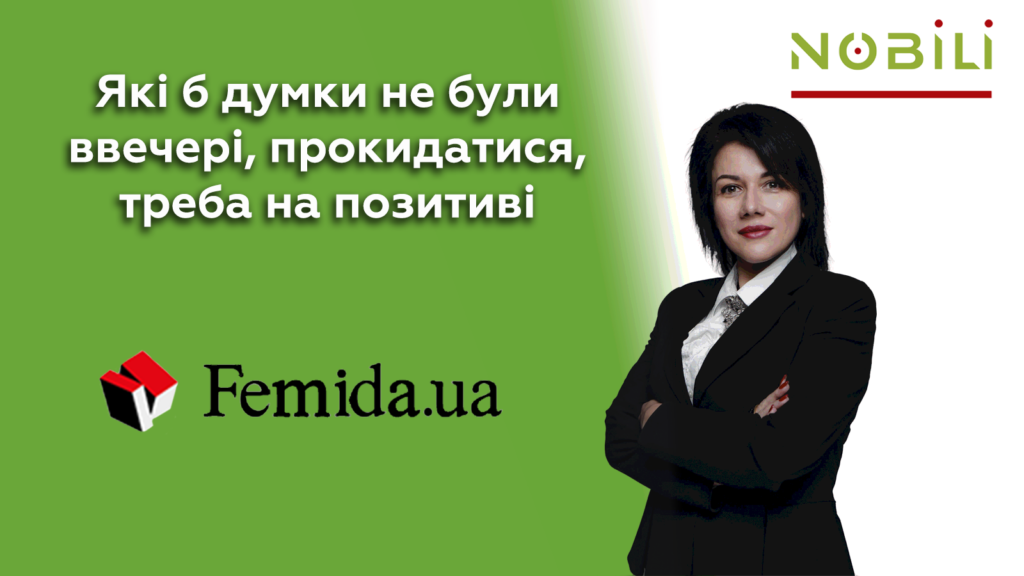 Arbitration manager, managing partner Law law firms Nobili
Interview of Natalia Tishchenko for Femida.ua magazine
– Natalia, you have built a successful business, your company occupies a significant place in the legal market. Is it possible to derive a universal formula for success in this area?
– When you sincerely want something more than money, become obsessed with your idea, put all your strength into it, you have like-minded people, helpers, followers, and you definitely succeed. Your success is the success of the whole team. Everyone has their own formula for success. Mine consists of fairly simple things: self-confidence, motivation, having a plan and faith in the result, obstacles (a necessary component), harmony and sincerity – with colleagues, with subordinates, with clients, partners and, especially, with oneself.
– Each team has its own characteristics, common features. What makes the Nobili team special?
– A team is work for common goals, in which there are also the own goals of each of the participants. The entire team ensures the continuity of the process and is collectively responsible. The roles of each are clearly assigned, but each is able to help or replace the other at any time. We are a small company and this allows us to work harmoniously, like a watch mechanism. As you know, a real team is formed as a result of crisis situations. The practice of bankruptcy is associated with constant stalemate, when you need to quickly make decisions, protect and insure each other, and most importantly – trust each other. Trust, openness, solidarity, responsiveness and unity are what unite the Nobili team. – Does unfair competition happen in the legal market? – Yes. The desire to make money does not stop some companies and individual lawyers from taking work they do not understand, dumping at the start, then raising rates, selling services that do not yet exist. For example, when the draft Bankruptcy Code was still being discussed in Ukraine, which provided for the introduction of a new procedure for bankruptcy of individuals, certain companies have already given advertising, they are engaged in bankruptcy of individuals and even know this thanks to the accumulated experience. Quite often we deal with clients who remained in a difficult situation precisely because of unqualified legal assistance. Bankruptcy is a very specific practice, it is not enough just to read the Code. Only the personal experience of an insolvency administrator allows us to see bankruptcy from the inside, to maneuver in the stormy sea of ​​bankruptcy legislation. Bankruptcy is trust. By outsourcing these specific services to an unscrupulous lawyer, the client risks assets, business and overall reputation. Here word of mouth works as much as possible. Therefore, we never pay attention to unfair competition. If someone offers services, in the client's opinion, with more loyal conditions and they suit him, we do not keep such a client. Our clients know about us and understand what reputation means for Nobili.
– Has the quarantine announced in Ukraine in connection with the coronavirus epidemic made adjustments to the work of your law firm? How was the workflow, communication between employees and clients organized?
– Although we are a small company, we are quite ambitious, we try to follow large companies, learn from their experience in process automation and information security. We had all the tools for working online. But it was not enough to have the technical capabilities to work at home. For several days I myself could not organize my working day correctly. Homework, attention to children, home environment – all this negatively affected the work process. As a result, my working day lasted a whole day … The same thing happened in some employees, although there were those among us who were able to organize from the first day. I realized that until I organize myself, it is ineffective to require children and employees to complete tasks clearly. The first thing I did was set up a schedule for my day, including such mandatory things as sports, cooking and eating, and adjusted joint breaks. with schoolwork. Secondly, I made a strategic plan for the company during the quarantine period.
During my practice, I have gone through two economic crises and clearly understand that now is a good time to prepare for heavy loads. Bankruptcy is always a trend at times like this. Our practice is relevant in times of crisis, and I try to take into account my previous experience to get a good result. Thirdly, I chose clothes that will be my workforce during quarantine. It is more convenient than office, but it also sets you up for work. In addition, any telephone conversation not related to work knocks out of the work schedule, so I wrote such conversations into the schedule after the end of the working day. When I managed to overcome myself, I made the first video conference and explained to all employees how to organize their day – by my own example. Now we are all in the ranks, we work quite well. The only thing that still remains organized is the court sessions, which do not depend on our actions. The only thing that still remains organized is the court sessions, which do not depend on our actions. We launched free bankruptcy advice in an effort to help businesses overcome the crisis. Unfortunately, quite a few executives, financiers and lawyers know about this tool, about its benefits and possibilities. Thus, we are trying to overcome the information gap that exists today.
– Can you predict how the situation with coronavirus will affect the legal market in Ukraine? For example, will there be new practices?
– I know for sure that the practice of bankruptcy and court practice will be relevant. It's pretty simple. Not everyone knows how to negotiate and not all businesses, unfortunately, are ready to be sensitive to today's needs. "" Is that why you chose the bankruptcy sector for work? "At the beginning of its work, Nobili was engaged in everything that came from clients. But after the 2008 crisis, we realized that my experience as an arbitration manager, which at that time was already significant, could be useful for business to overcome difficulties. Then the courts were inundated with bankruptcy cases. Most of the business owners wanted to legally get rid of the debt and liquidate the business. Most of them soon started new, more successful businesses. Unfortunately, back then, bankruptcy was only associated with liquidation, and reorganization was seen as a malicious tightening tool.
Now, thanks to the reform, the practice of bankruptcy will significantly change the perception of this instrument. And I know for sure that bankruptcy will help a business to get out of the economic crisis with the least losses. – How do you assess the new Code of bankruptcy procedures? What are its norms successful, and which outraged? – In general, the Code of bankruptcy procedures is progressive. In Ukraine, there are still many business owners for whom the motto "Only cowards pay for debts" is the norm. It is the Code that is designed to overcome this irresponsibility and become an effective instrument for recovering debts. In most of its provisions, the Code reflects the position of creditors, and I think this is correct. After all, it is the creditor who is the main victim in bankruptcy cases. He has already lost his funds and his task is to recover the maximum percentage of the amount owed. I like removing the barriers to filing for bankruptcy. To date, neither the amount of the debt, nor the time frame, nor the availability of a decision to collect the debt and the corresponding enforcement proceedings are important for the opening of proceedings in the case. Because in recent years we have had a global problem with the withdrawal of bankruptcy assets, while the litigation was going on to prove the existence of debt obligations. The introduction of the bankruptcy procedure for individuals is a new procedure for our country, and time will tell how it will work in practice. But I already understand that filing for bankruptcy only by the individual himself is an artificial barrier to the return of debts. This will soon become a problem for businesses and banks. Firstly, the legislator equated the bankruptcy of individuals with the bankruptcy of the payroll. Considering that business in its economic activities massively uses the services of these business entities, an opportunity opens up for abuse of debt recovery. Secondly, non-resident banks that have issued loans to Ukrainian will have to go through the entire complex court procedure to collect debts.
– What can you advise a business, especially a small one, at this difficult time?
– To adapt to new conditions. Seek new consumer needs. Listen and learn from the experience of those who went through the crisis. In any situation, negotiate – try to agree on a deferral, installment plan, debt restructuring. To keep human resources, this is the most valuable thing in business.
– And what life hacks can you share with colleagues – partners of law firms?
– Everything depends, first of all, on the leader. Until he is able to organize himself, the employees will be "on vacation." Therefore, hourly labor rates should be established and monitored. Motivate and control. Do not use the situation to reduce the wage bill unless absolutely necessary. With the correct conduct of financial activities in a legal company, there should be a "pillow" for 3-6 months, this should be enough until full-fledged work is restored. People are the basis of the legal business. Right now, a team is being formed that will be with you in the future. As for me, renting is the first thing to take care of. In present situations, the landlord will willingly reduce payments. Maximize access to consulting your target audience for free, make deferrals and discounts due to viewed costs and reduce the cost of time.
– With what thought is it worth waking up every morning?
– Whatever thoughts you have in the evening , wake up, definitely, you need to be positive. The current situation is given to us to do some things that we didn't want to do before, or didn't see, didn't hear … Understanding that the world is changing right before my eyes gives energy for quite risky things, new ideas, helps to create new projects. The world will no longer be the same. And what it will be depends on each of us!
Link to the original source: https://femida.ua/person/yaki-b-dumky-ne-buly-vvecheri-prokydatysya-odnoznachno-treba-na-pozytyvi/